FREE GROUND SHIPPING IN THE USA WITH ANY ORDER OVER $75.00
To add an item to your basket, simply click on the picture or name of the item that you wish to order.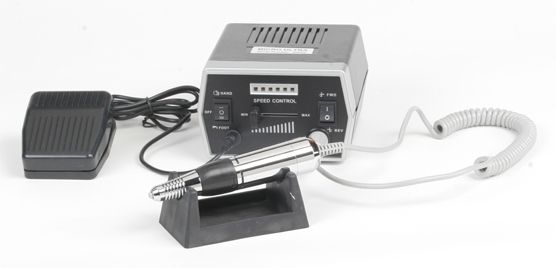 The Lasco Micro Ultra Machine is light weight, easy to use, and extremely portable. This machine is ultra quiet and ultra smooth. The unit comes complete with a 110 Volt variable slide speed control box with LED speed indicator, stainless steel micro motor hand piece, hand piece stand, and foot control.
Use the table top slide speed control box or the foot control to quickly adjust the hand piece to any desired speed up to a maximum of 35,000 RPM. The control box also has a forward and reverse switch to select the direction you would like the hand piece to run. The machine accepts all 3/32 inch standard hand piece burs and includes a One Year Warranty.
$399.00
SPECIAL INTRODUCTORY PRICE
$299.99